This is an introduction to my hand-crafted interpretations of a Giant Panda and a Red Panda Bear. Both of these cute bears are currently residing in my Etsy Shop where they would welcome your visit. They are just two of the collection of bears (and bear-related items) who frolic in my Land of Crochet.
Giant Panda Bear in Crochet
This toy Giant Panda Bear is hand-crocheted in black & white acrylic yarn and filled with soft, new polyfil. His features are crocheted and embroidered, with plastic safety eyes in the center of the black 'patches'.
This little roly-poly panda is just 5 x 6 inches and weighs about 8 ounces, a much better size to be a child's playmate as compared to the real Giant Panda who lives in the mountains of Central China and can grow to 4-6 feet tall and weigh over 250 pounds.
The Red Panda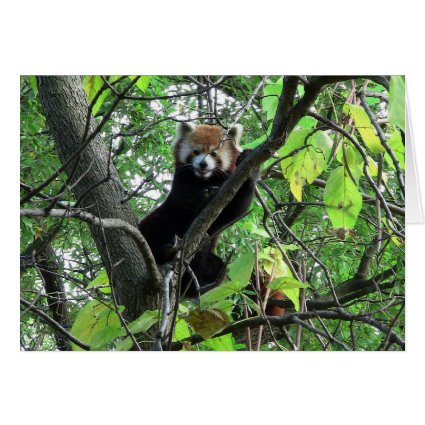 The Red Panda also lives in China and the Himalayas. Much smaller than the Giant Panda, the red panda is only a bit larger than a domestic cat and looks more like a raccoon than a bear. You can see what a red panda actually looks like in this beautiful photo by Sylvestermouse. She put this darling red panda photo on a lovely greeting card, which is available in her Zazzle store. It is also featured on other items.
Red Panda Plush Toy


My interpretation of the Red Panda in crochet looks just like my crocheted Giant Panda, except for being red and white instead of black and white. The reason they look alike is because I used the same pattern for both panda bears, not having a pattern that resembled the actual red panda.

This crocheted Red Panda is about the same size (measuring about 5 x 6.5 inches and 14 inches around his plump belly) as his friend, the Giant Panda toy. They are both very happy to be round and roly-poly toy plush bears in my Etsy toy box.

Both the Giant Panda Bear and the Red Panda Bear are available in my shop called Coastal Crochet Crafts and they hope you will enjoy visiting them.
National Panda Day
I see by some calendars that March 16 is National Panda Day. A fun way to celebrate would be to read your child a book about Panda Bears while they cuddle a plush animal Panda Bear.
Please, Mr. Panda is a delightful storybook about 'manners' showing a panda bear offering donuts to his black & white animal friends (a
penguin, a skunk, and a whale) who forget to say "please" and "thank you". The book is geared toward 3-5 year olds in the pre-school to kindergarten range.
For more "bear" stories, visit the Parade of Plush Teddy Bears.
*Plush Panda Bears Article was written by Wednesday Elf on 3/4/2015 and updated on 3/16/2018

.